Support #11883
Need Embedding Help Page Update (Tableau)
---
Description
Hi Scott,
So I was recently trying to embed a Tableau visualization into a Commons site when I ran into a couple of roadblocks. I went to our Help Page for embedding from other websites, and it was helpful, but something we may want to add is that when copying the share link over from Tableau, you have to make sure you copy the link under "Original View"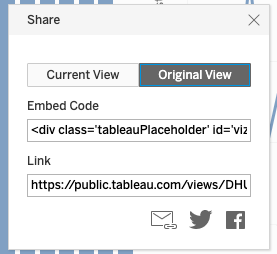 It was only after that discovery that the visualization was fully functioning within the Commons. I attached (or tried to attach) a screenshot to hopefully show you what I'm talking about.
Thanks!
History
Thanks Anthony. This is very helpful! I see we have a gif that describes a process which has changed. I am not a tableau user - can you send me a link to a resource that I embed and record for the documentation. Thanks!
Target version set to Not tracked